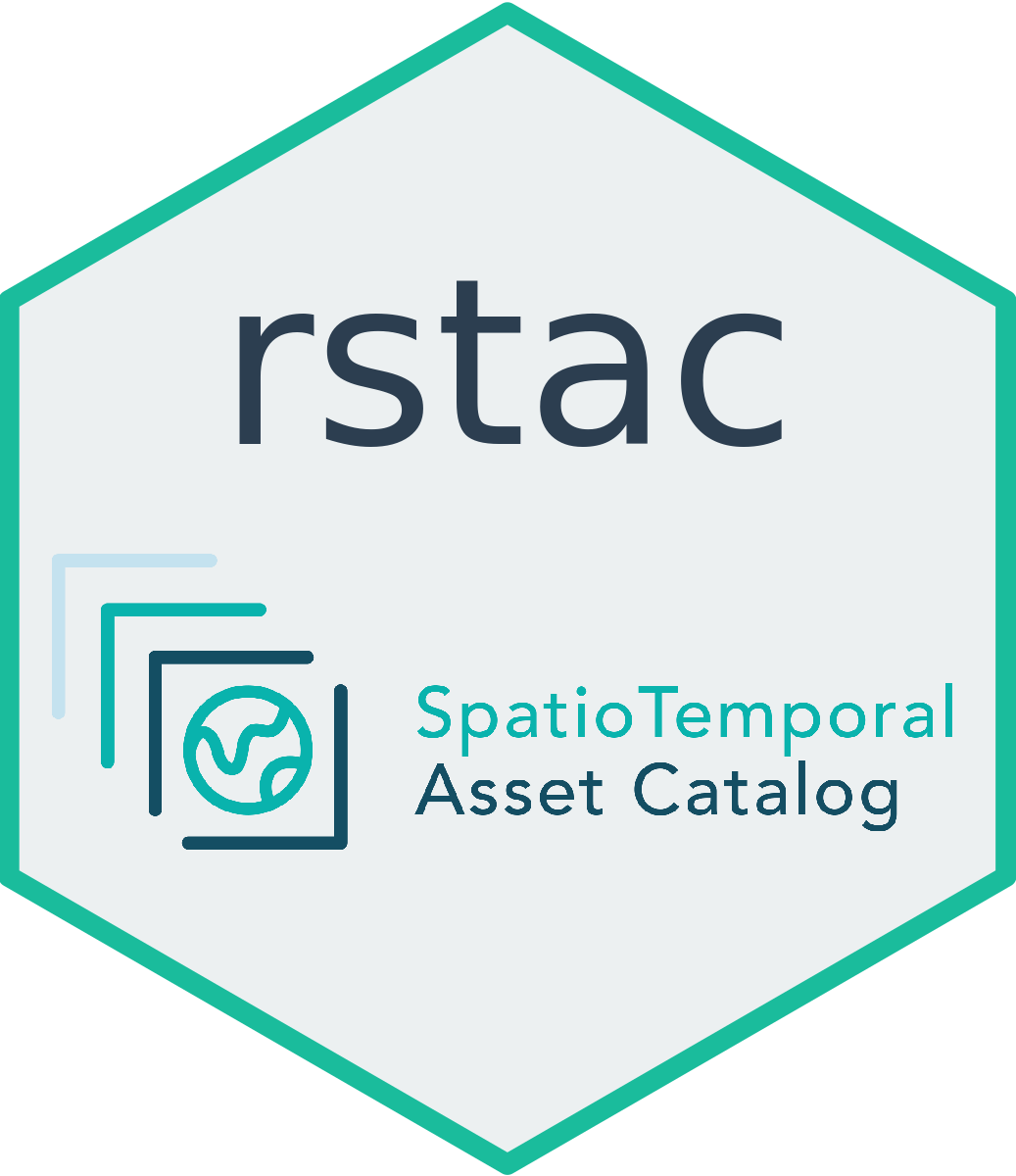 Changelog
Source:
NEWS.md
rstac 0.9.2-1 (Released 2023-01-21)
Fix intersects bug in stac_search() function
Vignettes are now fault tolerant
rstac 0.9.2 (Released 2023-01-10)
CRAN release: 2023-01-19
rstac 0.9.1-6 (Released 2021-11-05)
Fix examples and README where bbox parameter is in wrong order
Now items without the "match" property can be downloaded
Introduce a bbox checker
Fix appveyor bug
rstac 0.9.1-5 (Released 2021-11-01)
CRAN release: 2021-10-31
Add support to lifecycle package
Documentation has been changed from Rd to markdown
New functions that support assets and items manipulation have been added: assets_select, assets_filter, and items_filter
The documentation was reviewed
New examples and tests were added
rstac now supports signatures in href using the items_sign function
Function items_bands() was changed to items_assets()
Parameters assets_name and assets_names are now called asset_names
Add the rstac reference paper in README
Add feature name on print items objects
Create items_next function to do a single pagination request
Adjust download helpers to access data from Microsoft's Planetary Computer
Update news.md of v0.9.0-1
rstac 0.9.1-4 (Released 2021-09-14)
CRAN release: 2021-07-10
Fix typos
Update docs
Update tests
Update fixtures files
rstac 0.9.1-3 (Released 2021-06-25)
rstac 0.9.1-2 (Released 2021-05-28)
Fix pagination in items_fetch function to conform to STAC API spec
Improve README
rstac 0.9.0-2 (Released 2021-03-24)
Change version 0.9.0 to 0.9.0-2 in DESCRIPTION
Fix assets without extension in assets_download function
rstac 0.9.0-1 (Released 2020-10-20)
Update ext_query function
Add magrittr package in depends
Add function items_bands
Introduces items_bbox and items_datetime functions
Update print.R file
Fix items_fetch
Update assets_download.R and others functions
Add function 'get_assets_name'
Add overwrite and items_max parameter; solve issue #10
Fix bug in stac_matched and update documentation
Change function name .verify_datime()' to parse_datetime()
Rename function extension_query to ext_query
rstac 0.9.0 (Released 2020-09-18)
CRAN release: 2020-12-14
Fix issue from CRAN.
Preparing package to send to CRAN.
Update documentation.
Add function for extensions creating.
Add new tests.
Support for STAC version 0.9.0 and 0.8.1.
rstac 0.8.1 (Released 2020-08-24)
Support for STAC version 0.8.0 and 0.8.1.
Add functions to download and support analysis from items objects.
Add new tests.
License: MIT <https://raw.githubusercontent.com/brazil-data-cube/rstac/b-0.9.0/LICENSE>_ .
Update documentation.
Add CI support.
Add tests for CI.
Unit-tests with code coverage.